Kivisilmän T - litter (14.07.2014)

A little about the sire: DH, LUX CH Fats Domino vom Butzensee

(b. 31.03.2002)
Fats represents viability. He is already 11 years, still in a very good condition. Fats is a temperamentally very stable and structurally a very balanced typical newfoundland without any exaggerations. Approximately 16% off his offspring have been X-rayed, which represents a good proportion. Of them, just under 70% have A-hips, just under 90% have A or B hips. With regards to the highly important elbows, just under 90% of his offpsring have clear (0) elbows. 32 offspring have also been to be cleared heart healthy. We are expecting him, combined with Ruuti, to produce excellent brown show and working dogs. By using Fats for Ruuti, we are carefully and knowingly linebreeding to the very influential traditional-type INT, CZ, DNK, SLO, VDH CH Milos vom Riesrand. The ancestor loss coefficient for 3 generations is 0% and 6.67% for 4 generations (counting 1st generation as the parents; Fats and Ruuti).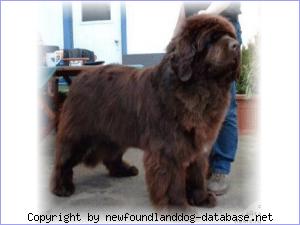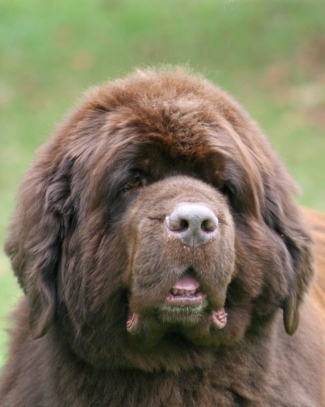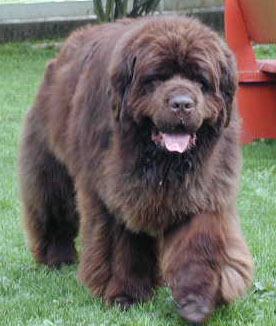 A little about the dam: Kivisilmän Monitoimikone "Ruuti"


Ruuti's page

Ruuti is one of our own girls, she is a good, solid enthusiastic working dog. Ruuti has a lot of stamina, she absolutely loves water, and she has an eager will to please and work with us. She'll be happy to relax at home on our busy days, but she'll be much happier out in the forest running and roaming around, in the water, or on the obedience fields working with us. Ruuti has the correct well balanced Newfoundland structure enabling her to succeed both in the show ring and at working trials. Ruuti has not competed much on the working side, but she has always succeeded in all the tests we've entered her in. Ruuti has passed UK, Belgian and German waterwork level 1 and UK draft levels 1 and 2. Ruuti has also dominated the conformation show rings; she is a Luxembourg Champion, and has become reserve best bitch (with RCAC, RCACIB) a dozen times at very large international shows. She has won several CAC's, also one CACIB. Ruuti has had two small litters (R- 2011 and S- 2012) with extraordinary males (Manitou 26 years, and Panda 12 years). Both litters have produced the type of dogs we aim to breed and therefore we have decided to breed Ruuti once more, as her last litter, after which we can fully focus on continuing working with her.


Pedigree:

Kivisilmän T - litter

LUX CH, VDH CH
Fats Domino vom Butzensee
DOB: 31.3.2002
HD: B1, ED 0/0
heart clear
cystinuria free

Leo vom Riesrand
HD: A2, ED 0/0, OCD: free, cystinuria free

INT CH, CAN, DNK, SLO, VDH CH


Hannibal di Borgoleonardo HD: A2

CZ Ch Tracks of Glory vom Riesrand HD: B1

Isi-Mausi vom Allgauer Bar
HD B1

INT, CZ, DnK, SLO, VDH CH
Milos vom Riesrand HD A1, ED1

Mousse Chocolate vom Riesrand HD B1

LUX CH
Kivisilman Monitoimikone
DOB: 23.11.2008
HD: B/B, ED: 0/0
heart clear (doppler and ECG)
cystinuria free
El Oso Pardo von Baywatch
HD: A/A, ED: 0/0, heart clear
Boradailes Bifrost Beau, HD: A/A, ED: 0/0, heart clear
Chanel No 5 von Baywatch, HD: A/A, ED: 0/0, heart clear

C.I.B.

, FI, SE, CH, EUVW-11


Larinkallion Brysselinblicca

"Capri"


D/D 0/0 heart: healthy, cyst: free

Gasparo vom Kaninchenberg
D/D 0/0
EST, FI, LV CH, LVV-00 Larinkallion Gateudengohde
D/D 0/

0
Puppies:
official name "call name"

testicles

cystinuria

heart

hips

elbows

knees

other

working and show results

K. Taifuuni "Myrsky"
yes
free
doppler healthy (p), auscultation healthy (10/15)
C/C
3/3
tracking: search & rescue beginners (FI)
show: VG
K. Trieeri "Koda"
yes
free
doppler healthy (p), auscultation healthy (10/15)
C/A
0/0
panosteitis, tilted pelvis
show: VG
K. Tutkamajakka "Benson"
yes
free
doppler healthy (p)
K. Talassologi "TickTock"
n/a
free
doppler healthy (p)
K. Telegrammi "Lydia"
n/a
free
doppler healthy (puppy and adult)
good
normal
normal eyes (uveal cyst)
American Grand Champion (show)
Water dog (requalification)
Beginner Novice
K. Tutkimusmatkailija "Cabot"
yes
free
SAS, died at 5 weeks
-
-
-
-
-
K. Trademark Nana "Jack"
yes
free
SAS, euthanized at 3 months
-
-
-
-
-
(p) as a puppy
Analysis of litter:

The puppies in this litter have the correct physical appearance that we are looking for in a Newfoundland. They are temperamentally correct and active, enthusiastic working dogs. However as 2 of the puppies had SAS (subaortic stenosis), the decision not to continue this line was made. We could not in good conscious subject puppies to this disease as any dog found with SAS would not be able to live an active and pain-free life. The stress put on the breeders, the stress put on the owners and the physical stress put on the dogs is not something we want in our lines.


--> Line Not Continued