Kivisilmän S - litter (08.07.2012)

A little about the sire: Oukaya Forever Regliss'Mint Panda "Panda"


HD: A/A, ED: 0/0, cystinuria free
The sire of the litter was born in April 2000, representing excellent viability, still being at a healthy active condition, able to reproduce at 12 years. This male has been worked in the water extensively (competing in the French 3rd class), with most of his offspring following in his footsteps in the water. He has passed on excellent health, temperament, as well as his strong boned, balanced structure to his offspring. He has been awarded trophies for best veteran at several national and regional speciality shows, and trophies for best conformation on a working dog. He represents traditional old breeding lines. More photos.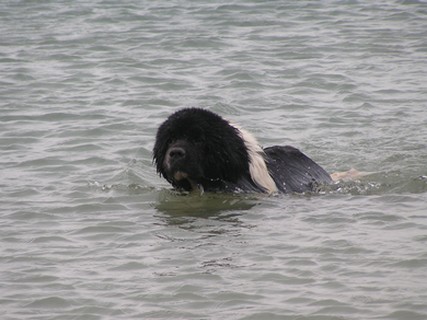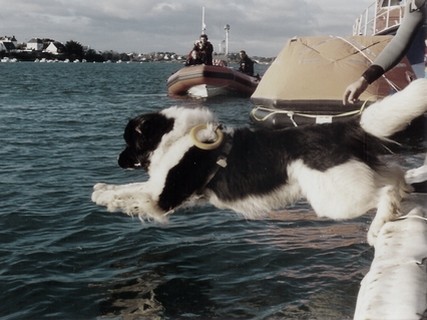 A little about the dam: Kivisilmän Monitoimikone "Ruuti"

HD: B/B, ED: 0/0, cystinuria free, heart clear echodoppler & ECG (spring 2011)

The mother of this litter will be our own girl Ruuti (Kivisilman Monitoimikone). She is one of our best active working dogs. Ruuti has a lot of stamina, she absolutely loves water, and she has an eager will to please and work with us. She'll be happy to relax at home on our busy days, but she'll be much happier out in the forest running and roaming around, in the water, or on the obedience fields working with us. Ruuti has the correct well balanced Newfoundland structure enabling her to succeed both in the show ring and at working trials. Ruuti has not competed much on the working side due to her young age (born 11/2008) and her previous litter (born 06/2011) taking most of last summer, but she has always succeeded well in tests we've entered her to, passing the UK (05/2010), German (09/2010) and Belgian (09/2011) waterwork level 1 and the UK draft levels 1 and 2 (05/2010). Ruuti has also dominated the conformation show rings; she has become reserve best bitch (with RCAC, RCACIB) several times at very large international shows, and has won several CAC's, also one CACIB. Ruuti became a Luxembourg Champion at the Speciality show in Spring 2012.
Ruuti had a litter with Wee Lovett's Island of Manitou (born 1984) in June 2011, producing three very balanced, active brown puppies. They are all structurally very promising, and showing great enthousiasm and drive towards working together with their handlers, epitomes of the Newfoundlands we aim to produce.



Why did we use a white&black male for a brown dog?
A dog is much more than just its colour to us. Any dog that we would even consider using for breeding must have a good balanced structure, an eager working temperament and great health. A good stud dog not only needs all these characteristics himself, but he must also be able to pass all these characteristics to his offspring. Panda fills all these criteria and much more, therefore we are extremely happy to be able to use him for Ruuti.
All breeders should be consciously breeding for only breed standard recognized colours: black, brown, white&black. We have genetically tested Ruuti to make sure that she is NOT a carrier of white&black (allele s), allowing us to confirm, even before any puppies are born, that all the puppies from a litter will be black (or brown if Panda is a carrier of brown, of which he is very unlikely to be), with no options for brown&white puppies.
In the future all partners of any breeding dogs from this litter must be genetically tested before mating to be able to confirm that only colours accepted by the breed standard are produced.


Pedigree:

Kivisilmän S - litter

Oukaya Forever Regliss Mint Panda
DOB: April 2000
HD: A/A, ED: 0/0
cystinuria clear
On a Lucky Day de la Fee des Eaux

LUX Ch Benjamino Martin
Cayuga Drucilla Black Star
Grizzly Maple Tree
HD: A/A

CAN Ch Bearbrooks Talisman of Cinali

CAN Ch Roubas Gijgije
HD: normal, ED: normal, heart clear, eyes: normal

LUX CH
Kivisilman Monitoimikone
DOB: 23.11.2008
HD: B/B, ED: 0/0
heart clear (doppler and ECG)
cystinuria free
El Oso Pardo von Baywatch
HD: A/A, ED: 0/0, heart clear
Boradailes Bifrost Beau, HD: A/A, ED: 0/0, heart clear
Chanel No 5 von Baywatch, HD: A/A, ED: 0/0, heart clear

C.I.B.

, FI, SE, CH, EUVW-11


Larinkallion Brysselinblicca

"Capri"


D/D 0/0 heart: healthy, cyst: free

Gasparo vom Kaninchenberg
D/D 0/0
EST, FI, LV CH, LVV-00 Larinkallion Gateudengohde
D/D 0/

0
Puppies:
official name "call name"

testicles

cystinuria

heart

hips

elbows

knees

other

working and show results

K. Salapoliisi "Ariel"
n/a
free
doppler healthy
C/D
0/0
waterwork: winners class (FI), level 1 (EE)
show: SA (FI), EE J CH
Temperament tested
Rally obedience beginners class
Analysis of litter:
Ariel - she is something extraordinary. She was born as a singleton to our Ruuti and a 12 year-old sire, Panda. Ariel was introduced to lake water at 5 weeks, went to her first waterwork trainings at 8 weeks. She then had long winter break with a couple of introductory swimming sessions at an indoor dog pool. When she emerged from winter hibernation, she was Ready: Ariel participated in her first waterwork trail June 2013 (49/50p). She trained over the summer everything but the test exercises, and passed to compete in the open class by the end of the summer. She is like a rocket in the water; water is her life: One of the silliest issues in the trainings has been to train her to come to shore! Whenever anyone asks for training advice from her owners, they always say the same "she is like a sponge, she "knows" it even before they start training, and when they do, she doesn't need to be shown more than once before she knows it fully". By the end of the summer, Ariel was already jumping out of a boat to take an oar to a drowner, tow it to the boat, get a floating article, take it to another drowner, tow to boat, and tow them all to the shore - all this with only verbal guidance. Ariel has also done blood trials tracking with her owners. During summer 2014 Ariel competed and passed the Estonian water test level 1 and has been working towards the open class in waterwork. She knows the exercises and much more, so it's just a question of "when" she'll progress into the winners class. Ariel also participated at a "bear test", where she got a special mention for mental stability and excellent quick return to normal state after being exposed to something "scary" and novel (the "bear"). Ariel is co-owned, but we've had the priviledge to live with her and train with her, and get know her just as our own.

Ariel hasn't been shown much, but despite that, she earned the Estonian Junior Champion title in just two show weekends in 2013.

HD C/D
ED 0/0
heart: healthy by auscultation

Ariel is a healthy, active, working Newfoundland and the decision to continue this line was an easy one to make.


---> Line Continued
- Kivisilmän Y-litter (AM CH, WRD2, RN Hurricane Keep My Dreams Afloat x EE J CH Kivisilmän Salapoliisi)